Posts By Category
Posts By Location
Upcoming Events
February, 2016:

Friday, February 20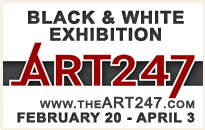 March, 2016:


Advertise Your Event on ENP!
More info here
Wednesday, March 12, 2014
I don't know why, but I have been extra sensitive to examples of how fleeting, yet important, life is. I was watching the news the other day when it was reported that a plane from Malaysia Airlines was missing. It had 239 people on board and it just went missing. The search parties found oil slicks in the ocean that could be the plane, but no plane and no passengers were found.
The only thing the authorities seem to know is that the plane's disappearance wasn't the result of terrorism. If they don't know where the plane is or how it disappeared, then how do they know it wasn't terrorism? Out there somewhere are 239 people who need to be found. But so far, no luck.
Then I was writing last night and saw a Facebook post that was wishing well to Dallas Stars' hockey player Rich Peverley after he collapsed on the bench during the first period of a game with the Columbus Blue Jackets. The team is not calling it a heart attack, but it was close to being one. Thousands of fans were in the arena to watch the game, including Peverley's wife, and they all watched as he was picked up and carried off the bench in a huge hurry. He is recovering nicely and will be fine, but I am hoping that he realizes that his professional hockey career could very well be over.
Along with the disappearing plane were the images of the families looking for answers. An entire plane just disappears and now people want to know what happened to their sons, daughters, brothers, sisters, mothers, and fathers. I would want to know too, and I would be angry about the entire situation. But who can you be angry at?
While Dallas head coach Lindy Ruff and the Dallas training staff was trying to help Peverley as he collapsed, his Dallas teammates were frantically pounding on the boards to get the officials to stop the game. One man with a heart condition stopped an entire hockey game and thousands of people didn't mind. It was the humane thing to do and those thousands of people are hoping that their hockey hero is going to be okay. But it struck me as odd that the NHL postponed the game.
When two players in two separate games in Buffalo had their necks cut and almost bled to death in front of thousands of fans and a television audience, those games were not postponed. Both of those games continued, despite the horrifying injuries that everyone in the building saw.
Do we appreciate life more than we used to, or are we just more sensitive to emergencies than we used to be? Can you imagine being Jacques Cloutier and having to stand in that crease after Malarchuck almost died in that very spot?
So I watch these things and think about close calls I have had in my life. Everyone has had those moments when they thought "This is it." I had my life flash before my eyes a couple of times, only to wake up and live to see another day.
I think the other thing that bugs me is that, as these examples of the delicate nature of life continue to bombard us, we still insist on arguing about stupid things. Maybe Colorado and Washington have it right. Maybe the entire country needs to legalize pot so everyone can just relax and enjoy life a little.
I try not to go back and relive moments when life seems so delicate and fragile. I don't know why. Maybe we should all remember those moments when we thought that our lives had reached their expiration dates and remember how much we wanted to live.
It is one thing to fight hard for your life and come out a winner. It is a completely different thing to appreciate exactly what it is you have won.
Nick Oliver is a Niagara County resident who values life. His column appears every Wednesday. You can contact him at NickOliver@writeme.com if you have the time.
---
Don't miss any updates from East Niagara Post.
Add us on Facebook, Twitter, and Google+.
Plus now Instagram and Vine.