Posts By Category
Posts By Location
Upcoming Events
February, 2016:

Friday, February 20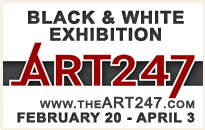 March, 2016:


Advertise Your Event on ENP!
More info here
Wednesday, December 24, 2014
'Twas the night before Christmas as I sat at my computer,
To see if they identified the latest police shooter.
I shook my head as I just do not see,
How killing police makes anyone feel free.
So I decided to see what was going on with Sony,
Only to find more corporate talk and useless baloney.
The company claims that the movie will be seen,
Even if it has to lose truckloads of green.
As I was tapping away I heard such a clatter,
I sprang from my chair to see what was the matter.
The moon on the breast of the new fallen snow,
Gave just enough light to see a large, moving shadow.
When what to my wondering eyes should appear,
But a beat-up Ford truck leading some guys in military gear.
I looked at the truck and recognized all too soon,
That the leader of this group was Kim Jong Un.
He was waving his cane as he stood in the back of the truck,
And he could be heard exclaiming that "America was out of luck."
A crowd started to gather in the middle of the street,
To listen to the words of this misguided little freak.
"I have conquered your movies and your White House will be dead!"
Most people shrugged their shoulders and went back to bed.
I asked him how he intended to bring Obama down,
He replied "With my superpowers and the help of your town."
I inquired as to what made him feel so bold,
He just smiled and said we feared him, or so he was told.
I laughed when I saw him, in spite of myself,
And his round face turned red with anger, like a little Christmas elf.
"You will bow before Kim Jong Un" he yelled out loud,
But by this time I was the only person left in the crowd.
I asked him why his Internet was down and he just hung his head,
He mumbled that the Chinese were mad about something he said.
I put my arm over his shoulder and showed him the town,
I asked why he would want to bring such a dynamic society down.
Then he said that he saw that the American people were cruel,
And that we didn't know how to live within our own rules.
I shook my head as I had to agree,
Lately, my own people had been embarrassing to me.
He asked, "Why do you defend a country such as this?"
I told him that behind the headlines are the good things you can miss.
There are people in America who care and bring the world cheer,
But they never make it onto CNN, because they don't inspire fear.
Kim Jong Un said there was a different side to North Korea as well,
He said that not everyone in the country lives in hell.
He told me about his castles, his cars and his lands,
He told me that he is ruler of everywhere he stands.
He said that the people cheer and clap when he walks by,
Because if they didn't cheer and clap they knew they would die.
I shook my head and asked him why he hated his land,
He said that he didn't hate them, but he felt they needed a firm hand.
"Look around you," I said, "there is freedom as far as you can see,"
"Americans are allowed to be whatever they want to be."
I saw Kim Jong Un scan the horizon looking at freedom all around,
Then he suddenly got misty-eyed and quickly sat down.
"If you truly have freedom," he said with a tear,
Then why do so many of your people live in fear?
I explained that the media makes things worse than they are,
They use fear to create things like a federal Ebola czar.
America is a great country and it has everything you need,
Kim Jong Un got to his feet, looked me in the eyes and said "Indeed."
He got back into his Ford pick-up and ordered the engines to engage,
Then he thanked me for showing him how he could change.
But I heard him exclaim 'ere he drove out of sight,
"Merry Christmas America, I have only begun to fight!"
Sigh, what a douche.
George Root is not a poet, but he lives in Niagara County. Merry Christmas everyone and have a great holiday season!
---
Get the daily East Niagara Post email update.
Send an email to news@eastniagarapost.com with "email update" in the subject line.