Posts By Category
Posts By Location
Upcoming Events
February, 2016:

Friday, February 20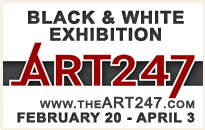 March, 2016:


Advertise Your Event on ENP!
More info here
Monday, November 17, 2014
Contrary to popular belief, the movie adaptation of Charles Dickens' story A Christmas Carol that stars Alastair Sim is actually called Scrooge. There are literally dozens of adaptations of Dickens' classic tale and I have probably seen them all. I have seen the ones made from the very earliest days of film and I even sat through Disney's abomination in 2009. I watched as much as I could of Kelsey Grammer's musical version and I have seen countless animated versions of this story voiced be people I have never heard of. But through it all, this 1951 version is the absolute best ever made.
It would be easy enough to say that it is Alastair Sim who makes this movie one of the best movies ever made (I consider this movie to be one of the best ever made in any genre, if not the best movie ever made.) but that would be lazy. That would also be doing a disservice to other actors such as Mervyn Johns, who put in a great performance as Bob Cratchit. Even Glyn Dearman as Tiny Tim brought a level of performance to this movie that enhanced the overall quality.
But we should not diminish what Sim has done in setting the gold standard for portrayals of Ebenezer Scrooge. Sim takes a very disassociated attitude with Scrooge in the beginning of the movie that slowly transforms into a man who cares about everything. In the beginning, Sim's Scrooge shows that he only cares about the things that affect his company's bottom line. While every portrayal of Scrooge attempts to accomplish this attitude, Sim does it in subtle ways that make us believe that Alastair Sim himself is a real bastard. His acting is so fluid that it seems natural and there is nothing forced about it.
While Sim gives Scrooge a granite façade, we see the cracks when the ghosts start showing up. Even after seeing ghosts all night long, Sim's Scrooge is still genuinely terrified to see the Ghost of Christmas Yet to Come. It is a transition we can see it happening right before our very eyes.
If I have one complaint about Scrooge, it is the same complaint I have about every adaptation of Dickens' classic Christmas tale. There has yet to be an adaptation of A Christmas Carol that properly shows why Scrooge is so terrified to see his own name on the tombstone at the end of the movie. Dickens sets it up extremely well in the book, but that process is never re-created by any of the directors who have tackled film adaptations of the story.
It almost seems like director Brian Desmond-Hurst realizes the shortcoming of the script he is working with and tries to compensate for the problem by flowing quickly from one scene to the next and building anticipation for the climactic reveal. It works in this movie, and it works very well. But it could have been so much better if Desmond-Hurst had just used the book to guide him at the end.
It is rumored that the granddaughter of Charles Dickens met Sim on the set of the movie and gave her approval for his performance. She is also rumored to have said that her grandfather would have approved of the film and the actor as well. If that story is true, then that is some pretty high praise from a person who is as close to the source material as any actor who has portrayed Scrooge has ever come.
Ted Turner colorized Scrooge and the colorized version looks like a bad cartoon. This movie was meant to be black and white and it looks great in black and white. This movie is not just a holiday classic, it stands as one of the finest films ever made in any genre. Alastair Sim was a well-respected actor before he made this movie, and he carried on his role of Scrooge 20 years after this movie was released when he voiced Scrooge in a highly-acclaimed animated version of the story.
There are a lot of good reasons to see Scrooge, especially if you have never seen it before. I have literally seen it hundreds of times and it never gets boring to me. It is a movie that keeps getting re-released on every new home entertainment format that comes out, and it is a movie that will be part of the holiday season for a long time to come. If you have not seen Scrooge yet, then don't wait any longer. I guarantee, you will be hooked from the first time you see it.
Rating:
5 out of 5
George N Root III is a Lockport resident and drive-in movie fanatic. To keep himself occupied during the drive-in break, he watches Christmas movies. Check out his reviews every week and see how your holiday favorite stacks up.
---
Get the daily East Niagara Post email update.
Send an email to news@eastniagarapost.com with "email update" in the subject line.