Posts By Category
Posts By Location
Upcoming Events
February, 2016:

Friday, February 20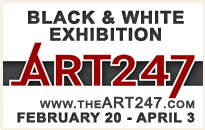 March, 2016:


Advertise Your Event on ENP!
More info here
Thursday, February 18, 2016
Lately, I have been wrestling with the idea of living life to its fullest, and I find it confusing. I am almost to the point where my time will be my own as the bills that have been strangling my wife and I for so long, and became more powerful in January, will soon be tamed to the point where we will have things under control. Instead of frantically working 10 hours a day, sometimes six days a week, I can enjoy regular work days. That means I have time to live life to its fullest. But I still don't know what that means.
Earlier this week, my son and I went to see a movie with my closest friends. I am not normally the kind of person who leaves the wife at home for a guy's night out, but I have to admit that it was fun. I would not mind doing that more often and for different types of events. Of course, that would mean stepping up how much I take my wife out as well, because I like balance. That is just the way I am. But is that living life to its fullest?
When people talk about getting the most out of life, there are instant images of scuba diving in a Caribbean ocean, or climbing a towering mountain peak and thrusting triumphant arms in the air with the sun as an appropriate background. But I have no desire to do any of that. Hell, I hate leaving the house. Even after everything I have been through, I still hate leaving the house. Does that mean I am not qualified to live life to the fullest?
As with anything else in this world, how you view your own life is subjective. If my version of living life to the fullest is to catch up on my bills and build up a bank account so I can spend my evenings and weekends doing nothing, then who can argue with me? Of course, with two very young grandsons, the weekends are booked for the foreseeable future, and that is fine with us. I guess spending time with my friends, my wife, my son, and my grandsons is what I would consider living life to the fullest. I mean, what else is there, really?
It seems to me that the common notion of getting the most out of life is kind of selfish. If you commit your heart to someone and that someone is not interested in climbing mountains, then why go? Maybe you should, instead, find common interests that the two of you can enjoy. Because, it would seem to me that getting the most out of life means enjoying the bonds you have with the people around you.
Would I be getting the most out of life if I suddenly decided to move to Manhattan and try my hand at being a Broadway playwright? You would think that someone who loves to write would certainly consider the pursuit of a career on Broadway as a worthwhile obsession, but not me. I like writing up here in my little office in Lockport and putting what I do out for the world to see. I like it even more when I collaborate with friends and we come together to create something people really enjoy. Maybe getting the most out of life means sharing your accomplishments with the people who matter most. At least, that is what it would seem to me.
I am in a position now where I should make each day count and I should get the most out of life. By the end of this week, my finances will be under control. I can cast aside the yoke of financial oppression and get on with getting the most out of life. What will be the first thing I do? Probably give my grandson a hug and sit with him to watch his favorite episode of Paw Patrol for the 10th or 11th time. Did I make my grand entrance onto the Manhattan social stage? No. Did I conquer the highest peak in the world and put my name with those chosen few who have made that perilous journey? No. Did I make my way to the Caribbean and experience the world beneath the sea in an up close and personal way? No.
Did I get the most out of life? You bet your ass.
+George N Root III is a Lockport resident who feels that being with family and friends is getting the most out of life. Follow him on Twitter @georgenroot3 or send him a message at georgenroot3@gmail.com.
---

Check out East Niagara Post videos on YouTube, Vine and Periscope.