Posts By Category
Posts By Location
Upcoming Events
February, 2016:

Friday, February 20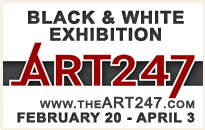 March, 2016:


Advertise Your Event on ENP!
More info here
Monday, February 15, 2016
Kevin McCarthy is one of those actors who made a ton of classic movies that most people don't even talk about anymore. His list of starring credits includes Death of a Salesman, Stranger on Horseback, and Nightmare. I think the reason he does not get the credit he deserves is because he did so much television early in his career, and the movies he did later in his career (such as Looney Tunes: Back in Action and UHF) were dismissed as awful. We all know that UHF is a cult classic, but that did not seem to help McCarthy's reputation any.
The one movie Kevin McCarthy did make that people generally accept as a classic is
Invasion of the Body Snatchers
. One of the most difficult things for a lead actor to do in any movie is show the transition of their character from one mindset to another. Alistair Sim did it masterfully in Scrooge when he turned the character of Ebenezer Scrooge from a miserable skinflint, into a loveable old man. McCarthy does the same thing in Invasion of the Body Snatchers when he transitions Dr. Mile J. Bennell from the calm and cool skeptic, into the raving lunatic who needs to warn the world about alien invaders.
The thing I really liked about Invasion of the Body Snatchers is that it is based solely on the horror involved in not knowing who is who. Are you talking to your wife, or are you talking to an alien carbon copy that is designed to kill you and take over the world? After a while, the movie gets very creepy about its whole premise, and it is impossible for the viewer to look away.
This movie benefits from the generally demure approach that most 1950s movies had. This movie was made in an era where people went to the theater two and three times a week for entertainment because not everyone had a television, so movies tended to settle people in before blowing their minds. This movie is so filled with Americana when it opens that it might as well come with an apple pie with each showing. The entire transition from a calm and collected (and honestly boring for the first 20 minutes or so) movie into a horror-filled nightmare is done at an expert level.
This movie stood out when it was first released because of its high quality compared to the other 10 or so movies that were released the same week this one was. The funny thing is that the production budget for this movie, as with most movies churned out in Hollywood in the 30s, 40s, and 50s, was low. But director Don Siegel made great use of what he had and, just as what director Byron Haskin had done three years earlier with the War of the Worlds on a limited budget, turned out movie magic that completely works on the screen.
The only real star of the movie is McCarthy, because the movie focuses much more on telling the story than it does on giving anyone else any screen time. The only complaint I have about Invasion of the Body Snatchers is that it jumps from scene to scene a little too quickly in spots. But there is enough substance there to make sure that the pace of the movie does not ruin anything.
The end of the movie is filled with frantic action that ends with Dr. Bennell convincing the military that something has to be done to stop the alien invaders. I kind of wish that Siegel had not taken the movie that far because it would have been more effective, especially to a 1956 audience, to leave the end of the movie open for interpretation. But Siegel decides to give us closure, and we are forced to send our imaginations off into another direction to try and determine the "what if" question surrounding this movie.
If you love old horror movies, then Invasion of the Body Snatchers is one that you have to see. It starts off as a subtle story about any town in 1950s America, and erupts into a terrifying tale about an alien invasion that seems impossible to stop. All in all, this one is worth checking out when you have an hour and a half to kill.
Rating:
3 ½ out of 5
+George N Root III is a Lockport resident who may or may not be his real self at this time. Follow him on Twitter @georgenroot3 or send him a message at georgenroot3@gmail.com.
---

Check out East Niagara Post videos on YouTube, Vine and Periscope.