Posts By Category
Posts By Location
Upcoming Events
February, 2016:

Friday, February 20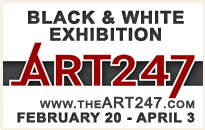 March, 2016:


Advertise Your Event on ENP!
More info here
Thursday, October 29, 2015
The Lockport Public Library played host to over 100 people Tuesday night as author, Ariel Lawhon visited for the annual "One Book, One County" program. Her book, The Wife, the Maid, & the Mistress, was chosen by the library staff to be the showcase of the program for this year. During her presentation, she not only told the viewers of her journey on becoming an author, but also her upbringing which readied her for a life of writing.
Ariel Lawhon poses for a photo with ENP's Craig
Bacon.
(PHOTO COURTESY OF MARIANNE COLTON /
Ariel Lawhon was the product of a marriage where her parents met and married in the same day. There were six children living in the American Southwest without electricity until solar panels were utilized as she was in her teens. Mom and Dad were voracious readers and equally storytellers. In a house without television, entertainment came in the form of books, even when it meant reading by the light of a kerosene lantern.
As she began reading on her own, she fell into the worlds like Narnia. However, instead of ending the story when she finished the last page, she began to add to the stories. The worlds that she fell in love with through the pages became her own as she added her voice to them. Soon she had moved onto making her own worlds and her own stories.
When she was a freshman in high school, shortly after the year began, a teacher tapped her on her shoulder while she was standing at her locker. The teacher was the creative writing teacher for the sophomore class, and she had heard about how wonderful Ariel's writing was. Mrs. Wilson asked if Ariel would be taking her class the following year. Of course, the answer was a resounding yes.
Graduating at only 16 years of age, Ariel moved from Arizona to Kentucky and Tennessee to be near her brother, who was in the military. There she met and married her husband, eventually having four sons to keep her busy. It was shortly after the birth of her second child that the story that became her novel started to form in her mind.
About two weeks after bringing home the new baby, she sat down to her computer to read the news and catch up on emails. She saw a link asking "Has the Mystery of Judge Crater Been Solved?" Clicking on it, she read the history of one of the biggest missing persons cases in our country. She was hooked when she read that Crater's widow, on the anniversary of his disappearance, would go to one her husband's favorite bars. There she would order two shots, sit in the corner booth, and toast her late husband. She would drink one shot and leave the other behind.
Lawhon viewed this as an act of pennace. The question arose, "What if she knew but never told, and this was how she punished herself?" From there, she began outlining her ideas on what might have happened to Judge Crater.
Research began by reading contemporary accounts of the disappearance as well as visiting New York City to make sure she got the setting correct. Included in her research was Empty Robes, a memoir written by Stella Crater with assistance from Oscar Fraley, co-author of The Untouchables. Stella's voice from this memoir became the spine around which the novel was written.
Interestingly, in the book, Lawhon imagines that Ritzi, the showgirl, has escaped the clutches of the people who were out to do her harm and settles in the Midwest with a husband. In real life, the whereabouts of Ritzi were unknown. About five months after the book was published, she received an email from a woman who claimed to be the showgirl's granddaughter.
The family was stunned to learn of their grandmother's past. She had always kept that hidden. After leaving New York City, she had moved to California where she became a competitive ballroom dancer. She also changed her name to Diane. Her family had no idea that her name wasn't Diane until the last few months of her life in 2000. She also kept a scrapbook with numerous clippings that she never let anyone look at. She burned the book before she died, taking its secrets with her to the grave.
Lawhon was amazed at how close her imagination had gotten to the truth. Finally, after 70 years, the mysterious disappearance of Crater's showgirl friend was solved. It was uncannily so much like what she had imagined in her novel.
In her closing, Ariel Lawhon stated, "There is a profound connection between the author and the reader. This thing is mine for all those lonely months of writing. Then it is yours, yours to love or hate."
Ariel Lawhon was fun to listen to. She regaled the audience with tales of her youth and of her own children (4 sons) with a folksy charm that endeared her to the people at the library. Her newest book, Flight of Dreams will be released in February, 2016. It's another piece of historical fiction that is sure to keep readers begging for more.
+Craig Bacon reviews books and the theater for East Niagara Post. Read his column every Tuesday and follow him on Twitter @hippieby73.
---
Catch up quick