Posts By Category
Posts By Location
Upcoming Events
February, 2016:

Friday, February 20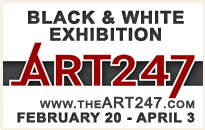 March, 2016:


Advertise Your Event on ENP!
More info here
Friday, March 27, 2015
I've always liked hockey. Ever since I can remember, hockey has been my sport of choice. That's not to say that I don't enjoy football or appreciate baseball. But for me, hockey is where it's at.
I've always loved the Buffalo Sabres. Yeah, I flirt with the Washington Capitals but at the end of the night, I always go home with Blue & Gold. They've been my team when they were awesome. They've been my team when they've sucked. And they'll be my team through the rest of it.
Each and every season, I hope "this is the one." I long to see my favorite team hoist the most impressive trophy in the world of sports. Following a gruesome 82-game regular season, teams still need to win another 16 games to call themselves champions. I hope someday it will be my team — the Sabres.
The beginning of this season was no different. It was billed as a "rebuilding year" for the Sabres by most professional prognosticators. But like most Sabres fans — and like most years — I hoped the experts were wrong. I wanted to watch the Sabres play into May and finally drink from Lord Stanley's Cup.
As the year went on, my hopes became more and more bleak. And many Sabres fans talked about a very peculiar hope: that the Sabres would finish dead last in the NHL and have a 50/50 chance of getting the first pick in the 2015 NHL draft ... and a 100 percent chance of getting either the first or second pick.
These so-called fans were not for me, I said at the time. No one in their right mind wants their team to lose. Ever. It's just plain illogical.
But as the season wore on, I began to be less and less hopeful that "this is the one," and understood more and more the virtue of failure. Finishing last does have its rewards, I concluded.
As the season draws to an end, I have found myself actively rooting against my team. While I want to watch good hockey — as always — I want the game to end with the Sabres on the short end of the proverbial hockey stick. I want them to lose.
I have embraced the tank.
Most of my friends are hockey fans. It's practically a requirement. So my Facebook feed is filled with comments of people watching hockey. And I've found that many of them have embraced the tank, too. It seems like in 2015, loving the Sabres means wanting them to lose.
I was among those greatly looking forward to the battle of the sludge Thursday night. The two worst hockey teams in all of the land in a fight to see which one could lose to the other — while trying to win.
Sabres Head Coach Ted Nolan said he'd never ask his team to tank. They're playing to win. They're just really bad at it, he seems to say. President Ted Black says the same, explaining that the team is focused on the future, which dictates that the present is going to be ugly.
And somehow, I find ugly to be fun. I have enjoyed the memes put out by the likes of
TrendingBuffalo.com
, which has had a
#MagicMcNumber
section on their site for well over a month, tracking how man games the Sabres have to lose to "win" Connor McDavid or Jack Eichel. I laughed Thursday night when I saw Sabres fans cheer the Arizona victory. And I have Monday's game against Arizona figuratively circled on my Google Calendar.
I guess in the grand scheme of things, I want the Sabres to be the best at something. And this year, they're really good at losing. So like many Sabres fans, I decided to simply go with it. I'm embracing the tank — hoping the Sabres lose the season so that some day they might win the Cup.
+Scott Leffler would like to watch the Sabres win some hockey games ... next year. For now, he embraces the tank. Follow him on Twitter @scottleffler.
---
For instant access to East Niagara Post's YouTube videos, social media feeds and more,