Posts By Category
Posts By Location
Upcoming Events
February, 2016:

Friday, February 20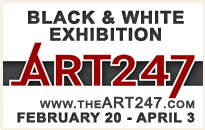 March, 2016:


Advertise Your Event on ENP!
More info here
Thursday, October 30, 2014
Debate moderator Corey Brown, left, introduces state Senate candidates Johnny Destino, center, and Robert Ortt. The pair faced off Wednesday night in Niagara Falls. (ENP STAFF PHOTOS)
BY SCOTT LEFFLER
scott.leffler@eastniagarapost.com
---
The candidates were civil to start but the exchange got testy at times once
the debate began.
NIAGARA FALLS — At a debate held Wednesday evening at the Earl Bridges Library on Main Street, Johnny Destino and Robert Ortt agreed on a lot. Except who should be elected.
Destino, a former Republican who is now running as a Democrat — with the support of the Democratic Party — said there is a culture of corruption in the Republican Party, specifically in Niagara County.
"I offer a fresh start," he told the audience of the debate — sponsored by the Niagara Falls Block Club Council, Rotary Club of Niagara Falls, the Niagara Falls chapter of the NAACP and the Kiwanis Club of Niagara Falls.
Ortt, the endorsed Republican, Conservative and Independence parties candidate said he has a "record of accomplishment" as the mayor of North Tonawanda. He also highlighted his military service, saying "my adult life started Sept. 11, 2001."
Despite the debate being held in what is typically a Democratic stonghold — Niagara Falls — Ortt's supporters in the audience of 150 or so were many. And loud.
The "George Maziarz question" was brought up be debate moderator Corey Brown of Niagara University. The Ortt campaign has worked to position itself as respectful of — but independent of — the political juggernaut whose decision to withdraw from the race before his nominating petitions were accepted in July led to Ortt's candidacy.
Tonight, Ortt referred to Maziarz as a "fierce advocate" for Niagara County, but said they're not identical, adding, "I'm not running to be the king of Niagara County politics."
Destino has worked to tie Ortt to Maziarz, a strategy some might question considering Maziarz' continued popularity in the district — despite his having been subpoenaed as part of a federal investigation.
A group of protesters greeted visitors as they entered the
library's back entrance. They were upset about Destino's
silence on the issue of abortion.
Party allegiance was a topic of conversation with Ortt calling Destino "a career candidate who will join any party he can to win office" and himself a "lifelong Republican."
Destino countered by saying that he wasn't happy with the local GOP. "You have to know who you're associating with ... and if they're doing wrong, it's time to leave." He also stuck up for Gov. Andrew Cuomo, saying he's paid more attention to Western New York than any other governor in 40 years.
Destino added that party politics has hurt the district — in particular Niagara Falls. "We had a senator who continually butted heads (with Niagara Falls officials) and that really hurt us."
Ortt said Niagara Falls officials are to blame for Niagara Falls' problems, noting that the city has received millions of dollars in casino revenues and is still $9 million in the hole, while North Tonawanda has a $6 million reserve — without casino revenue. He added that the casino money doled out should come with restrictions.
Both candidates said after the debate that they felt confident with their performance. Destino had one final zinger: "Ortt finally had a platform today and it was mine."
One prominent Republican in the audience felt that Brown was unfair to Ortt. The moderator attempted to keep both candidates on point, but did seem to set Ortt up with a question about Common Core, asking if the Republican candidate would support a system that asked schools to improve their own grades year over year rather than try to meet a certain statewide score. When Ortt agreed, Brown said it was what Common Core already does.
"He knows absolutely nothing about Common Core," Destino said.
In the end, the candidates differed very little in terms of their goals and policies. But that doesn't mean they didn't have their differences.
Working Families Party candidate Paul Brown was again a no-show to the event. His podium sat empty for the 45-minute debate.
Notable members of the audience included former Assemblywoman Francine DelMonte and her brother John, who is running for State Supreme Court Justice, Maziarz' Chief of Staff Gerald Meal, Niagara County Legislator Dennis Virtuoso, and former Niagara Falls Mayor Vince Anello. Current Mayor Paul Dyster was notable absent.
---
Get the daily East Niagara Post email update.
Send an email to news@eastniagarapost.com with "email update" in the subject line.