Posts By Category
Posts By Location
Upcoming Events
February, 2016:

Friday, February 20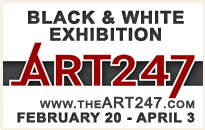 March, 2016:


Advertise Your Event on ENP!
More info here
Wednesday, October 8, 2014
Michael Gilbert, Sabres VP of Public & Community Relations, considers the fried banana pepper rings Tuesday at First Niagara Center. Local media got a chance to test out the new foods being served this year at the arena. (PHOTOS BY HEATHER N. GRIMMER / ENP PHOTOGRAPHER)
BY SCOTT LEFFLER
scott.leffler@eastniagarapost.com
---
Slider stacks come in a variety of options.
BUFFALO — The mission, if we chose to accept it, was to try new food items being served to Sabres fans at the First Niagara Center by the team's food and beverage partner Delaware North.
Of course, we accepted it. With options like Buffalo chicken flat bread pizza, Cuban meltpanini sandwiches, and crab lobster rolls, who wouldn't?
Arriving at the Lexus Club on Level 2 of the arena Tuesday morning, we walked in at the same time as Sabres Vice President of Public & Community Relations Michael Gilbert, and team president Ted Black. The room was already filled with media and the pair joked that free food always does the trick. Truth is, it does.
ENP Art and Graphics Director Heather Grimmer and I had gone to one of these shindigs two years ago and knew it wouldn't disappoint. It didn't.
Immediately as we walked in, we were greeted by Delaware North's Victoria Hong, former morning and noon anchor at WIVB. She told us to wait for some remarks from Black and Scott Green, executive chef at First Niagara Center before eating. Begrudgingly, we did.
After they spoke, we made our way around the food, Heather with her camera and me with my ever-growing eyes. The choices seemed endless.
Seafood spoons: The Salmon Wasabi was "flavorful and delicious,"
according to ENP's Heather Grimmer.
CONCESSIONS
Italian sausage flat bread - Artichoke hearts, caramelized onion and crisp flatbread
Buffalo chicken flat bread - House made hot bleu sauce, tossed chicken tenders tossed, six Italian cheeses and crumbled bleu cheese
Original pizza logs (Traditional, served with marinara sauce or Buffalo style, brushed with spicy hot sauce, served with a side of bleu cheese hot sauce for dipping)
Fried banana pepper rings with Southwestern ranch dipping sauce
Cuban meltpanini sandwich - Pulled pork, smoked ham, swiss cheese and dill pickle chips
Pastrami and swisspanini sandwich - Lean shaved pastrami and melted swiss cheese
Loaded potato chips
Loaded baked potato - Cheddar cheese sauce, bacon bits, sour cream and scallions
Dessert chips - Hot fudge, salted caramel, whipped cream and chopped maraschino cherries
Hot ice cream sandwich - Sweet bread filled with ice cream, hot sealed, and served with strawberry or chocolate sauce for dipping
Maple bacon on a stick. Please do not lick the screen.
SUITES
Tomato Mozzarella Pizza Dip
Premium shellfish platter - Lobster tails, King crab, shrimp and oysters
Seafood Spoons - Spicy tuna Ponzu, salmon wasabi, mango shrimp and lump crab avocado mascarpone
Poutine Bar - Roasted red potatoes with classic Canadian toppings, beef gravy, cheese curds, bacon, cheddar, and smoked Montreal style brisket
Street Food - Bacon on a stick, pork belly steamer buns and Mexican street corn
Beef Tenderloin Sandwiches - Brioche roll, provolone cheese, caramelized onion, roasted red pepper and Sriracha aioli
Root Beer Floats - Perry's vanilla ice cream, bottles root beer
HARBOUR CLUB 200
Maple bacon on a stick
Flights of soups - Guiness French onion, beer & cheddar, red pepper bisque
Chicken Gyro
Italian sausage
Apple bacon salad
Rueben burger
Sloppy burger
LEXUS CLUB
The Works Flatbread - Fire grilled homemade flatbread with pastrami, bacon, soppresseta, red pepper onion jam and pesto
Shrimp, Crab Lobster Rolls
The Sloppy Buffalo - Pastrami, corned beef, ham, turkey, bacon, sweet peppers, shredded lettuce, tomato and potato wedges
Juicy Slider Stacks - Buffalo Chicken, Bacon Cheese and Beef n Weck
Pistachio crusted salmon
Stuffed jumbo ravioli
Flight of soups: The French onion was delicious.
My goal of trying everything was futile. But I had my share — and Heather's, who's basically allergic to food.
The shrimp and crab lobster roll was my first victim. And it was excellent. I would have been perfectly content with filling up on those until the end of the troughing. But, alas, there was much more to sample.
I tried a Buffalo chicken slider stack, which was solid, but not "wow." Next I moved over to the suites table and ate up a Salmon Wasabi seafood spoon. And heavily endorsed it to Heather, who called it "flavorful and delicious."
I scarfed down bacon on a stick, a dish so simple, I'm not sure why it's not on every table in America for every meal.
"Bacon on a stick was brilliant. Absolutely brilliant," Heather said. I think everyone in the room agreed.
Basically, take a really thick slice of bacon, ensconce it in candied maple, shove a stick through it and serve up tasty.
First Niagara Center's executive chef, Scott Green, speaks to reporters
before they devour his menu Tuesday.
Other suggestions from yours truly include the French Onion Soup and the root beer float — I know, it's a root beer float, how can you go wrong? But somehow it was better than that. Victoria Hong and Kevin Sylvester seemed to agree, as they "cheers-ed" each other before downing theirs.
Oh, and the fried banana pepper rings. I'm a big fan of wrapping ordinarily healthy vegetables in breading and deep frying them before dipping them in some sort of heavenly sauce. We should do more of that.
To make a long story short, (too late?) Sabres fans will have plenty of tasty options when the team hits the ice Thursday to take on the Columbus Blue Jackets — and all season long.
Seriously. Try the bacon.
There's more photos from Tuesday's event
here
.
Scott Leffler is news editor for East Niagara Post and likes food. And the Sabres. Contact him via email at scott.leffler@eastniagarapost.com or twitter @scottleffler.
---
Get the daily East Niagara Post email update.
Send an email to news@eastniagarapost.com with "email update" in the subject line.