Posts By Category
Posts By Location
Upcoming Events
February, 2016:

Friday, February 20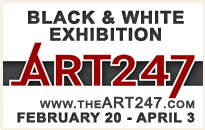 March, 2016:


Advertise Your Event on ENP!
More info here
Friday, April 18, 2014
It's been a busy "off season" at Lake Effect Artisan Ice Cream. The scoop shop on Canal Street opens for the season
today at 5 p.m. (PHOTOS BY HEATHER N. GRIMMER / CONTRIBUTOR)
It's been a busy "off season" at
Lake Effect Artisan Ice Cream
.
Erik Bernardi, left, and Jason Wulf decide where to put the posts for their
traffic flow system, which the store needs to deal with the sheer volume of
customers at the scoop shop.
While the artisan ice cream crafters have been busy churning away batch after batch of dairy treats, they've also been working hard on securing new partnerships and upgrading their flagship store
on Canal Street in Lockport
.
"We're psyched. We've got a lot of new stuff," said Jason Wulf, sounding more like a kid on Christmas than an art teacher from Lockport High School.
That new stuff includes a new line of coffee, ice cream sandwiches and freezie pops — or icicles as the cool kids are calling them. And by cool kids, we mean Wulf and his partner in ice
crime
cream, Erik Bernardi, who teaches biology at LHS.
The partnerships came easier this off season, Wulf said. "It's been nice because I think the more our name is out there, we have people kind of looking at us. Or if we contact them, they already know who we are."
One partnership the Lake Effect team signed onto was with
public espresso + coffee
, "a small-batch roaster located in Buffalo," which to hear Wulf tell it, might make the best coffee in the world.
"We don't really intend to be a coffee shop," Wulf said. "But if you get a coffee here, we want it to be the best coffee you can get."
They're even using it as an ingredient in one of their icicles, a concoction of public's Sumatra Mandheling coffee, cream and sugar which they have named the "double-double."
Like their ice cream, Lake Effect's icicle flavors are a bit out of the ordinary. Others include:
The Good Morning — Greek yogurt, coconut milk, whole milk, blueberries, peaches, spinach, honey, vanilla, Demerara sugar
Pamplemousse — Ruby red grapefruit juice, white grapefruit juice, puréed red grapefruit, raw sugar
Green Tea Honey Citrus — Green tea, oranges, pineapple, honey
Strawberry Banana Icicle — Bananas, strawberries, pear juice, apple juice
Lynoaken Farms Steampunk Apple — Steampunk Cider, apple cider, lemon, cinnamon, nutmeg, pureed apple and Merle Farms maple syrup
Orange Blackberry Mint — Fresh orange juice, pureed blackberries, fresh mint, agave
Coconut Lime — Coconut milk, whole milk, fresh squeezed lime juice, raw sugar, shredded coconut
Blueberry Banana Yogurt — Ripe bananas, blueberries, greek yogurt, honey
Got ice cream? Lake Effect sure does. The freezer is stocked with frozen treats
waiting for the onslaught of customers starting today at 5 p.m.
"That's kind of our answer to, 'you want somthing gluten free? You want something dairy-free? Now you have options.' We're trying to do some crazy stuff."
Another new collaboration is with
Lou Lou Bakes
, a Juniper Street bakery specializing in cookies.
"She makes cookies like we make ice cream," Wulf said. "The staple question for us is 'what kind of cookies do you make?' and the first one she named was something that she makes with nut brown ale."
Mary Lou Hoffman, aka Lou Lou Bakes, said she's honored to be working with Lake Effect.
"I love their story," she said. "Not to mention their ice cream."
She agreed with Wulf that the collaboration just made sense. "When I bake cookies, there's a lot of them that I've imagined as part of an ice cream sandwich."
She likes to try different things, like in the case of the cookie that impressed Wulf, an American brown ale from
Community Beer Works
called "The Whale."
"It's not a huge component in the cookie," but it's definitely there.
The custom-made chandelier in Lake
Effect's dining room will surely catch
patrons' eyes.
Other exciting news that happened for Lake Effect over the winter involves commercial sales. "We just got into the last Wegmans in Western New York. We're in all the Wegman's now," Wulf said.
That means that people don't have to travel to Lockport to enjoy the artisan ice cream, although they still want people to, as made evident by the sprucing up of the scoop shop. A fresh coat of paint adorns all the walls, new wainscoting runs throughout, and a fancy new chandelier hangs in the dining area.
Bernardi says they spent the off season thinking of ways to improve. One such improvement is traffic flow. Wednesday afternoon they were installing a rope line to usher patrons in the right direction — in and to the left, past the new shelving filled with local food stuff they use in their product (all for sale) and swag.
The pair and their wives were also cleaning windows, floors, display cases — the works. All in preparation for a 5 p.m. Friday opening.
Based on their excitement on
their Facebook page
, they're going to get an immediate opportunity to test their new traffic flow system ... and share their new product lines.
___
There's more photos from Lake Effect available by clicking here.